Welcome to my Scrapbooking Layouts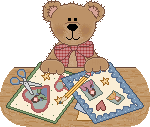 This is a humble collection of some of my scrapbooking layouts from my personal scrapbooks.

Most of these layouts are rather straightforward and make use of multiple photos whenever possible. I have way too many photos waiting to be put into albums to focus on creating uber fancy layouts that feature just one photo, though I do drool over some of the fabulous single photo layouts in the various scrapbooking magazines! These are more for the "want to get a baby album done before my child graduates high school" kind of scrapper. :)

Most of these layouts were also made before the scrapbooking craze really took off. Back then, scrapping supplies were just barely starting to be stocked in local craft stores so I depended on Creative Memories for much of my scrapping stuff.

Scrapping graphics from